BACK COVER FOR DREAMSCAPING
"We are such stuff as dreams are made of . . ." Since the time of Shakespeare, dreams have fascinated women and men, shaping the lives of professionals and nonprofessionals alike. But in the last few years, dreams have re-emerged as a potent grassroots force. Throughout this country and abroad, thousands of individual groups have formed to creatively experiment with their dreams: in therapeutic encounters, in cyberspace, in dream appreciation seminars, and in the literary and visual arts.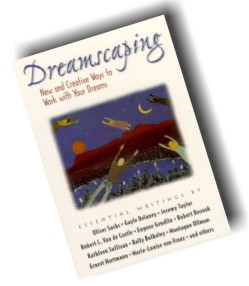 Dreamscaping brings together world-renowned authorities on dreams, providing readers with innovative methods for working with themselves, their partners, and groups. In this anthology, you will learn how to better recall your dreams, decipher their hidden meanings, create imaginative dialogues with dream characters, construct dream diaries, understand recurring dreams and nightmares, and apply dream messages to your life. You will also learn how dreams can be used to process the final moments of life.
Dreamscaping also explores the most recent developments in research and theory, showing how dreams can be used to diagnose brain disorders, explore the stages of death, and even provide scientific evidence of the reality of telepathy and other psychic phenomena. From chaos theory to the Internet, from spiritual awakenings to psychological insight, Dreamscaping reflects a changing landscape that is beginning to reshape social consciousness throughout the world.


Stanley Krippner, Ph.D., is a professor of psychology at Saybrook Institute, former director of the Dream Laboratory at Maimonides Medical Center, and past president of the Association for Humanistic Psychology. He is the author of more than a dozen books and 700 articles on dreams, consciousness, and healing.


Mark Robert Waldman is a therapist, founding editor of the Transpersonal Review, and an internationally published author in the fields of transpersonal psychology and relationship dynamics. He is the author of The Art of Staying Together and Love Games.